Remote access is the ability to get access to a computer or a network from a remote distance. In corporations, people at branch offices, telecommuters, and people who are travelling may need access to the corporation's network. Home users get access to the Internet through remote access to an Internet service provider (ISP). Dial-up connection through desktop, notebook, or handheld computer modem over regular telephone lines is a common method of remote access. Remote access is also possible using a dedicated line between a computer or a remote local area network and the "central" or main corporate local area network. A dedicated line is more expensive and less flexible but offers faster data rates. Integrated Services Digital Network (ISDN) is a common method of remote access from branch offices since it combines dial-up with faster data rates. Wireless, cable modem, and Digital Subscriber Line (DSL) technologies offer other possibilities for remote access.
Download this guide to become a Web App Security superhero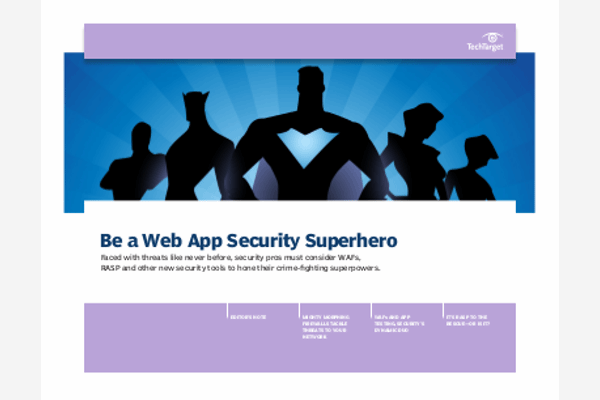 As web apps continue to face advanced attacks, protecting them requires more fine-tuning in order to match your app's distinct characteristics. Take advantage of this three part guide to access best practices for boosting your web defense and learn the latest in how to secure web apps on your enterprise network.
By submitting your email address, you agree to receive emails regarding relevant topic offers from TechTarget and its partners. You can withdraw your consent at any time. Contact TechTarget at 275 Grove Street, Newton, MA.
You also agree that your personal information may be transferred and processed in the United States, and that you have read and agree to the Terms of Use and the Privacy Policy.

A remote access server is the computer and associated software that is set up to handle users seeking access to network remotely. Sometimes called a communication server, a remote access server usually includes or is associated with a firewall server to ensure security and a router that can forward the remote access request to another part of the corporate network. A remote access server may include or work with a modem pool manager so that a small group of modems can be shared among a large number of intermittently present remote access users.
A remote access server may also be used as part of a virtual private network (VPN).
Continue Reading About remote access
Dig Deeper on Antivirus, antispyware management