script kiddy (or script kiddie) definition
Script kiddy (sometimes spelled kiddie) is a derogative term, originated by the more sophisticated crackers of computer security systems, for the more immature, but unfortunately often just as dangerous exploiter of security lapses on the Internet. The typical script kiddy uses existing and frequently well-known and easy-to-find techniques and programs or scripts to search for and exploit weaknesses in other computers on the Internet - often randomly and with little regard or perhaps even understanding of the potentially harmful consequences. Hackers view script kiddies with alarm and contempt since they do nothing to advance the "art" of hacking but sometimes unleashing the wrath of authority on the entire hacker community.
Download this guide to become a Web App Security superhero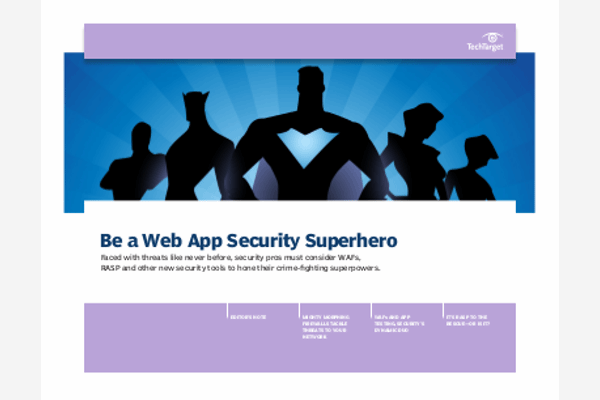 As web apps continue to face advanced attacks, protecting them requires more fine-tuning in order to match your app's distinct characteristics. Take advantage of this three part guide to access best practices for boosting your web defense and learn the latest in how to secure web apps on your enterprise network.
By submitting your email address, you agree to receive emails regarding relevant topic offers from TechTarget and its partners. You can withdraw your consent at any time. Contact TechTarget at 275 Grove Street, Newton, MA.
You also agree that your personal information may be transferred and processed in the United States, and that you have read and agree to the Terms of Use and the Privacy Policy.

While a hacker will take pride in the quality of an attack - leaving no trace of an intrusion, for example - a script kiddy may aim at quantity, seeing the number of attacks that can be mounted as a way to obtain attention and notoriety. Script kiddies are sometimes portrayed in media as bored, lonely teenagers seeking recognition from their peers.
Continue Reading About script kiddy (or script kiddie)